The Yealink SIP-T58A-C is a simple-to-use smart media phone that provides an enriched HD audio and video calling experience for business professionals. This all-new smart media phone enables productivity-enhancing visual communication with the ease of a standard phone. Based on Android 5.1.1 operating system, the SIP-T58A-C features a seven-inch adjustable multi-point touch screen, a removable two-megapixel HD camera CAM50, integrated Wi-Fi and Bluetooth 4.0+ EDR, and it is coupled with a built-in web browser, calendar, recorder and more, which also support the installation of third-party applications for business customization. The Yealink SIP-T5 Smart Media Phone Series strikes an exquisite balance between simplicity and sophistication, offering an all-in-one communications solution for today's busy executives, managers and teleworkers.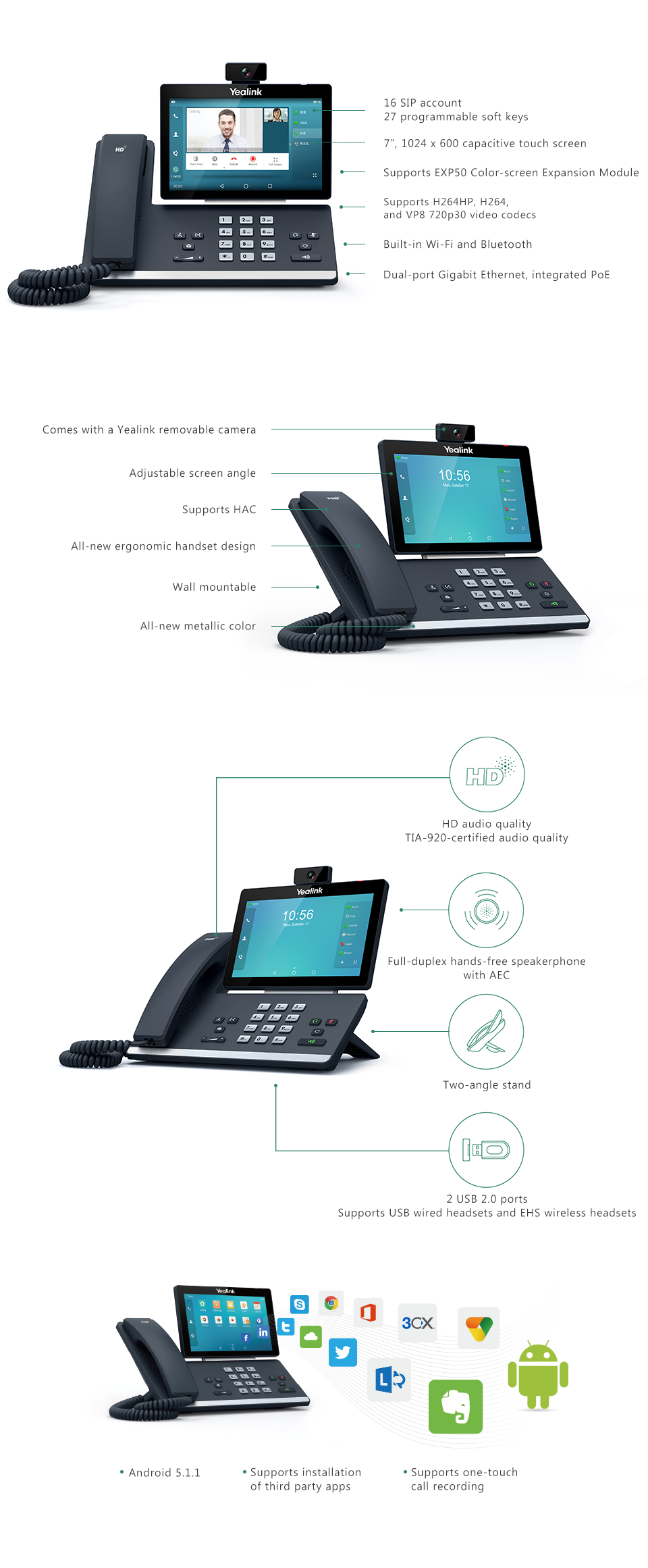 Features
• 7 inch (1024 x 600) capacitive adjustable touch screen
• 720p30 HD video
• Runs Android 5.1.1
• Built-in Bluetooth 4.0
• Built-in Wi-Fi (802.11b/g/n)
• USB 2.0 port (2.0 compliant)
• Up to 16 VoIP accounts
• Up to 3-party video conferencing
• Up to 5-party video/audio mixed conferencing
• Wall mountable
• Color-screen Expansion Module support ,without PSU"
Product Last Updated: 05/12/2023
* Whilst we endevour to have the correct information on our products provided from the supplier/manufacturer errors do occur. If you would like to double check the information, please feel free to contact us and we will be more than happy to confirm information on the item prior to purchase. In the event that product information is incorrect due to information we received from our supplier or manufacturer, we do not take responsibility or be held liable for damage(s) or loss(s). We will work with you and do our best to make the best of a bad situation and work with our supplier(s) and/or manufacturer(s) to supply the correct information for the item purchased etc..